Regular price
$40.00 USD
Sale price
$35.00 USD
Unit price
per
Sale
Sold out
- GOOD WOLF Probiotic Refresher infused with Adaptogens & Electrolytes -
Our Probiotic Refreshers are slightly sweet, lightly carbonated and purely delicious. We ferment apple juice using water kefir cultures, which produces a probiotic rich, plant-based beverage similar to kombucha, but without the tang, caffeine or added sugar.
All of our bevvies are smooth, yet complex and oh so refreshing. We craft them to be the best tasting and most functional health drinks on the market and we know you'll love them as much as we do.
GINGER YUZU: Crack open this tasty beverage, flavored with cold pressed ginger and yuzu juice. It's a little spicy and so invigorating. It's our take on an old school ginger ale, but with a myriad of health benefits this time around. Don't settle for a sugary soda pop on your next lunch break, instead snap into our Ginger Yuzu Probiotic Refresher as a thirst-quenching wellness beverage!
-- NON-ALCOHOLIC -- SPARKLING -- NO ADDED SUGAR --
Orders must be made by Sunday evening so that we have time to pack them up be sent to you Monday from Portland, OR!
12 fluid ounces per can. Perishable- Keep refrigerated.
GUT HEALTH: We all know innately that our stomachs affect our entire self. Our gut biome affects our brain health as most of our serotonin is produced in the gut. The gut is also a crucial part of our immune system, too. So Good Wolf ferments the base for the Refreshers - water kefir - with apple juice, figs and sea salt: slowly and naturally to produce countless bacteria. We also infuse an extra dose of Bacillus coagulans to guarantee at least two billion CFU probiotics in every single can. Rest assured, you're getting a powerful probiotic beverage with no added sugar.
BRAIN BALANCE: We infuse high quality extracts of Lion's Mane medicinal mushrooms (not psychedelic, sorry!), which are full of great health benefits. They are adaptogens, which means they mildly reduce stress and naturally restore relaxation and balance in your mind.
RECOVERY: The electrolytes come from natural mineral salt, from the untouched Salt Mines of Utah, providing trace minerals and sodium, along with potassium to help you retain moisture in your cells and stay recovered while you steady stayin' in the pocket. Thirst no more! 
View full details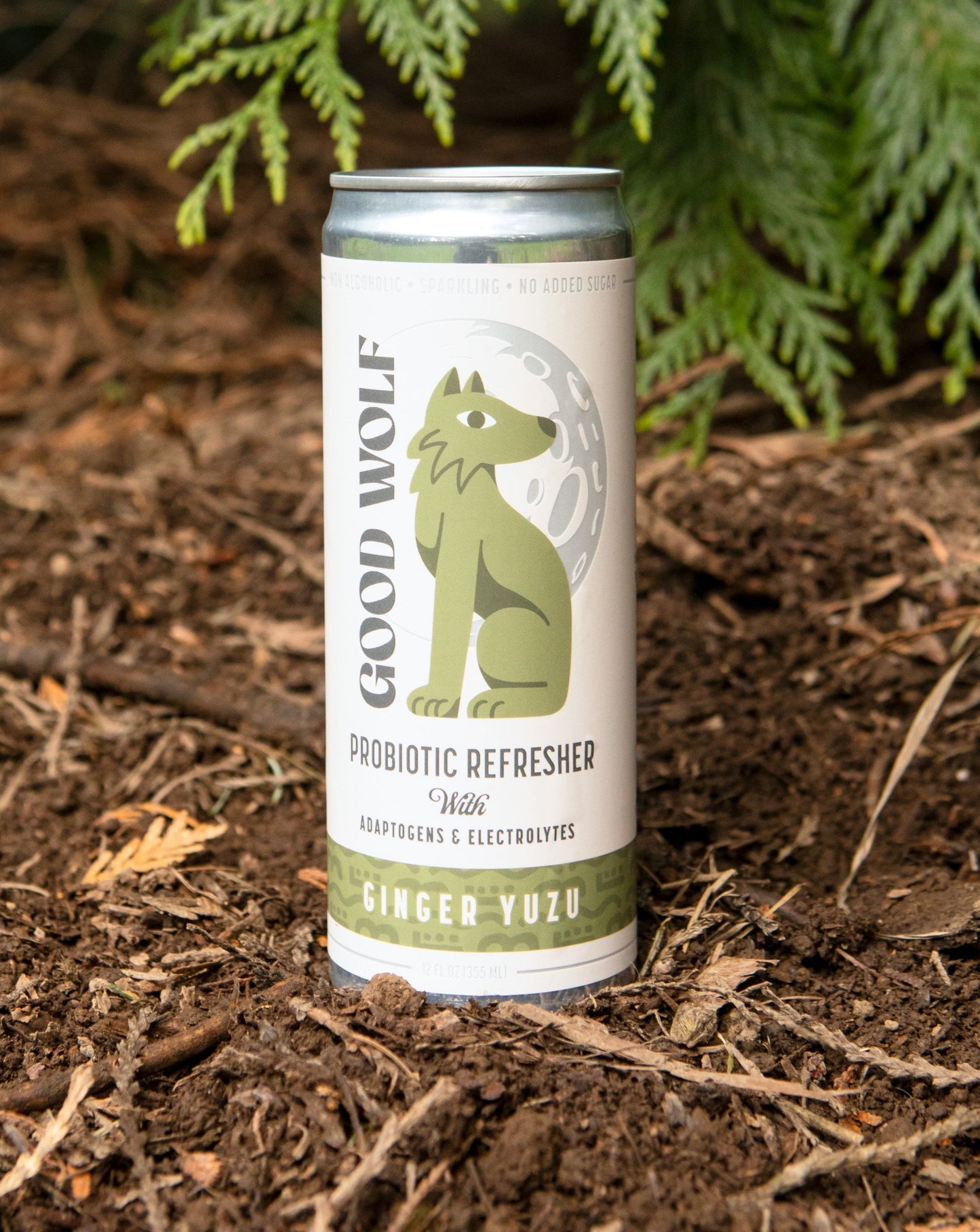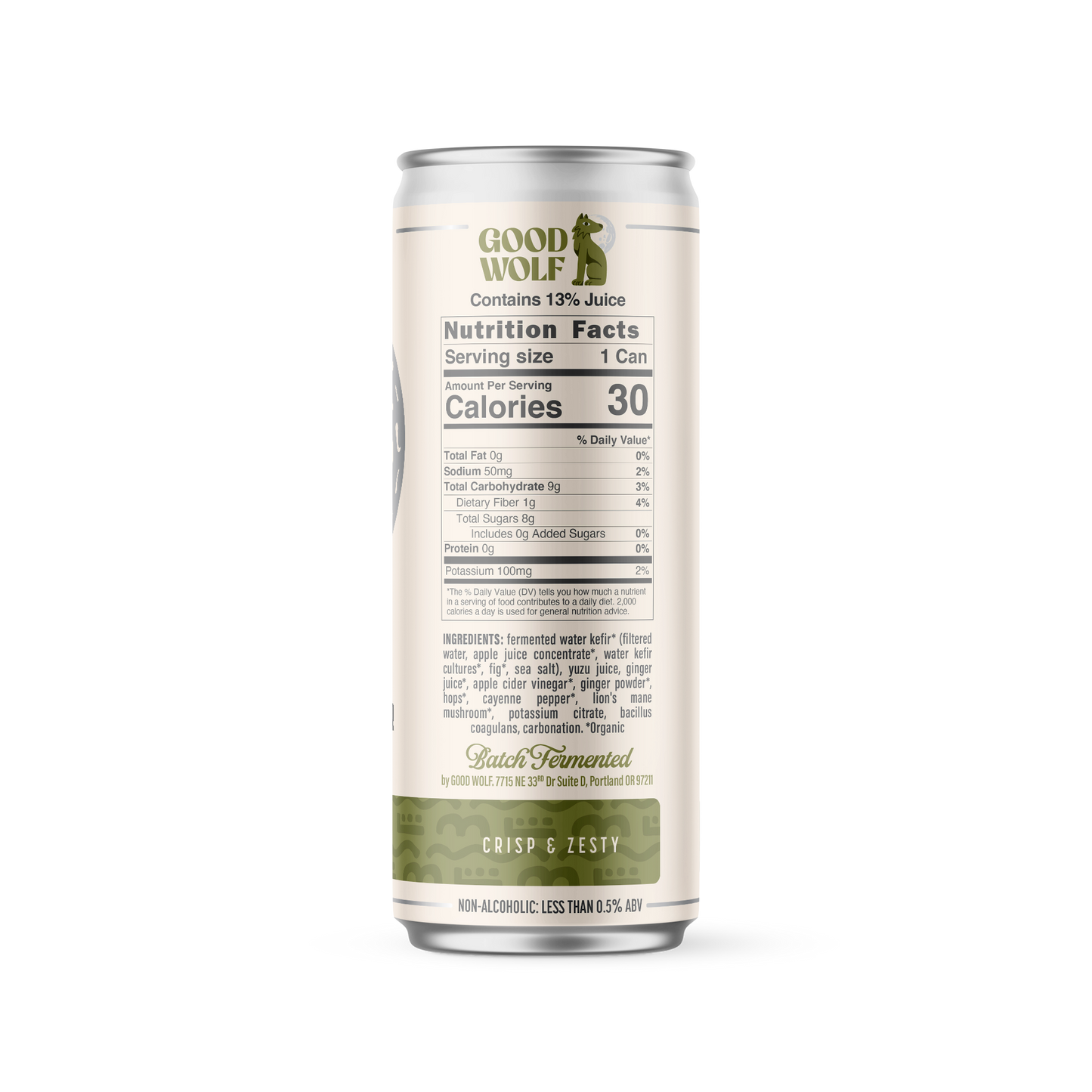 What exactly is a Probiotic Refresher?

The base for Good Wolf Probiotic Refreshers is water kefir. Water kefir is a probiotic, non-alcoholic, fermented beverage, very similar to kombucha, but doesn't have the sour/funky flavor that kombucha can have, nor does it contain any caffeine! Good Wolf is smooth, tasty and healthy!

Click here to read more about Probiotic Tonics and water kefir